Honda Motorcycle & Scooter India conducts Road Safety Awareness Campaign in Jaipur, Rajasthan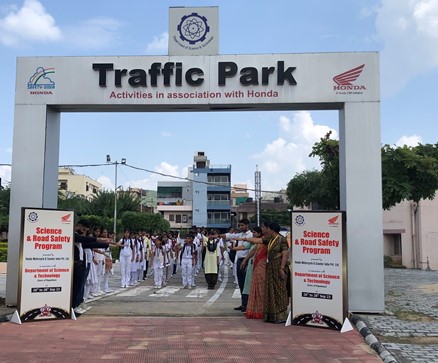 Jaipur, 29th September: Re-emphasizing the ongoing commitment to fostering a culture of safe riding in India, Honda Motorcycle and Scooter India (HMSI) has extended its National Road Safety Awareness Campaign to the city of Jaipur.
Road safety holds global significance for Honda. In a three-days event held at Jaipur Traffic Training Park, involving 7 schools, HMSI reached out to more than 2000 school students and staff members to raise awareness about safe riding practices. The company's road safety instructors utilized age-appropriate road safety learning programs to ensure that road safety awareness is effectively retained among all participants.
Since inception, in the state of Rajasthan, HMSI has imparted education to over 5.5 lakhs adults and children, focusing on promoting responsible road usage and cultivating safe riding habits.
Speaking on HMSI's commitment towards building a collision-free India, Mr. Vinay Dhingra – Senior Director, HR, Admin, IT & Corporate Affairs, Honda Motorcycle & Scooter India said, "At HMSI, we strongly believe in nurturing the future road users – children by imparting essential road safety knowledge to them. Our mission is to cultivate a positive mindset among youngsters, instilling in them the understanding that road safety is cool and is a gateway to discipline in life. As we aspire to build a society that places road safety at the forefront and values responsible conduct on the roads, we are committed to empowering and educating the next generation of riders about the crucial significance of safe road usage. To promote this mindset, HMSI has taken the initiative to launch an extensive nationwide road safety awareness campaign."
Honda Motorcycle & Scooter India's CSR commitment towards Road Safety:
Globally, Honda places the utmost priority on road safety. As announced in April 2021, "Honda will strive for zero traffic collision fatalities involving Honda motorcycles and automobiles globally by 2050".
One critical aspect of achieving this goal is inculcating a positive mindset towards road safety in our children by the year 2030 and continuing to educate them thereafter. Our aim is to encourage in children the value of not only caring for their own lives but also valuing the lives of others. We want them to understand that safe riding is cool and trendy and must not be avoided at any cost. To accomplish this vision, we are continuously identifying and implementing impactful road safety initiatives in schools and colleges across India.
These Road Safety awareness programs are interactive and engaging, catering to a wide range of age groups, from children to youth and are conducted in schools, colleges, government institutions, and non-governmental organizations. Through activities such as interactive games, role-playing, virtual experiences, and more, our goal is to raise awareness and encourage responsible road behavior among all road users. This awareness initiative has already reached over 5.7 million Indians. Our team of skilled safety instructors conducts daily programs at our 10 adopted traffic training parks (TTP) across India and 6 Safety Driving Education Centers (SDEC). HMSI's National Road Safety Awareness program made learning fun yet scientific through:
SCIENTIFICALLY DEVISED LEARNING MODULE: Honda's skilled instructors set the foundation with theory sessions on road signs & markings, driver's duties on road, riding gear & posture explanation and safe riding etiquettes.
PRACTICAL LEARNING: A special training activity on Honda's virtual riding simulator was executed for all to experience over 100 possible dangers on road before actual riding.
INTERACTIVE SESSION: Participants were given danger prediction training known as Kiken Yosoku Training (KYT) which helps in enhancing rider/driver's sensitivity to danger and ensures safe driving behaviour on roads.
EXISTING DRIVERS HONING RIDING SKILLS: Students & school staff members who are already existing riders tested & honed their riding skills through slow riding activities and riding on narrow planks.
LEARNING IN A FUN WAY: To ensure that the young students could learn more about road safety, Honda also conducted fun educational activities like road safety games and quizzes on daily basis.