Three day long south Asia's biggest textiles sourcing show "10th Intex India" started at Pragati Maidan in Delhi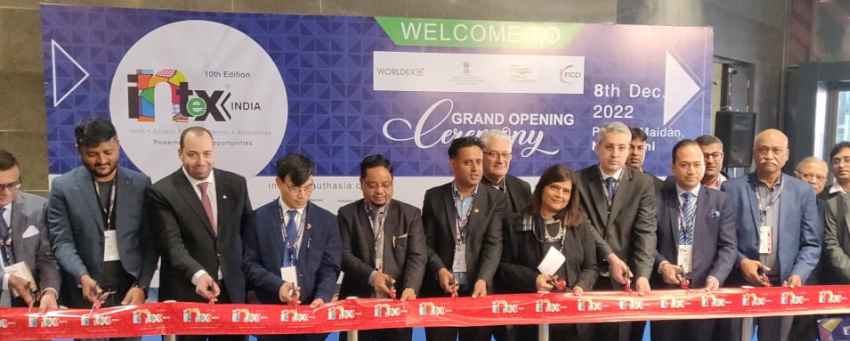 Three day long south Asia's biggest textiles sourcing show "10th Intex India" started today at Pragati Maidan in Delhi .The 10th Intex India, the premier international textiles sourcing show of South Asia organizing here in Hall 3 , Pragati Maidan New Delhi from December 8 to 10, 2022. The 10th Edition of Intex India was inaugurated in the presence of top government officials from across the world as well as industry players. Present at the opening ceremony were Mr. Lazar Vukadinovich, Deputy Chief of Mission, Embassy of the Republic of Serbia; Mr. Bui Thuong, Trade Councillor – Head of Trade Office, Embassy of Vietnam; Mr. R K. Bharti, Jt. Director, MSME Development Institute; Mr. Pankaj Verma, Director & Head – International Trade Fairs, FICCI; Mr. Kamal Mishra, Jt. Secretary, Textile Association India; Mr. Rajiv Samarasinghe & Mr. Arif Aziz of the Sri Lanka Apparel Brands Association; Mr. Pashupati Dev Pandey, President, Garment Association Nepal; Mr. Vikrant Kumar, Director, ReshaMandi; Mr. Rajesh Bhagat, CMD, Worldex India and Mrs. Arti Bhagat, Executive Director, Worldex IndiaMr. Rajesh Bhagat, CMD, Worldex India and organisers of Intex India 2022.
On this occasion, Mr. Rajesh Bhagat said, "Intex India 2022 has received an excellent response from suppliers, manufacturers as well as visitors. It is evident that an international platform like Intex India which supports industry would be much appreciated by all stakeholders. We look forward to creating a much larger Intex India 2023 next year."
Revitalizing international face-to-face business meetings for the textile industry, Intex India has grown to become the leading international sourcing show for fibers, yarns, fabrics, trims and more for the textiles & apparel industry.
Organised from 08-10 December 2022, Intex India will accelerate India's overall textile & apparel manufacturing and export capabilities in a concrete manner through various initiatives during the expo. As the world's fifth-largest exporter for apparel, home, and technical textile products, India holds a key position in the global value chain. To fuel this growth, Intex India has ensured the presence of buyer delegations from Italy, Spain, Singapore, South Africa, Uzbekistan, UAE, Kuwait, Saudi Arabia, USA, Russia, Canada, Malaysia, Vietnam, Bangladesh, Sri Lanka, and Nepal thus empowering Indian players to explore new business opportunities, forge worldwide connections and stay up-to-date with contemporary developments.
Today, India is considered as a trusted sourcing partner across the world due to its perseverance in maintaining supplies during difficult times. The last two years have seen a marked increase in purchase orders from both domestic as well as international markets in different categories. Intex India – through its international sourcing platform aims to fulfil these industry demands.
Since 2015, Intex India has connected 35,000+ buyers from 15+ countries to 1350+ textile suppliers and has empowered industry players to explore new business opportunities and expand business globally.
Intex India's renowned Interactive Business Forum showcased presentations by Italtex, the renowned Italian Trends Studio which showcases fabric trends for Fall/Winter 23/24 & Spring/Summer 2024 collection as well as Pantone – the international colour company – which created a strong impact amongst the professionals present through their expert insights into upcoming fashion and colour trends.
Organised by Worldex India, Intex India is endorsed and supported by FICCI and the Department of Commerce, Ministry of Commerce & Industry and the Ministry of Micro, Small & Medium Enterprises, Govt. of India.
Intex India was supported by ReshaMandi as the Online Sourcing Partner with added support from associations & chambers of commerce from across India and South Asia.
Intex India is the gateway to explore new business opportunities in India and across the world.
For more information, please visit bd.intexsouthasia.com.