IIM Udaipur awards Post Graduate Diploma to 37 students at the First Annual Convocation for its PGDBA-WE Program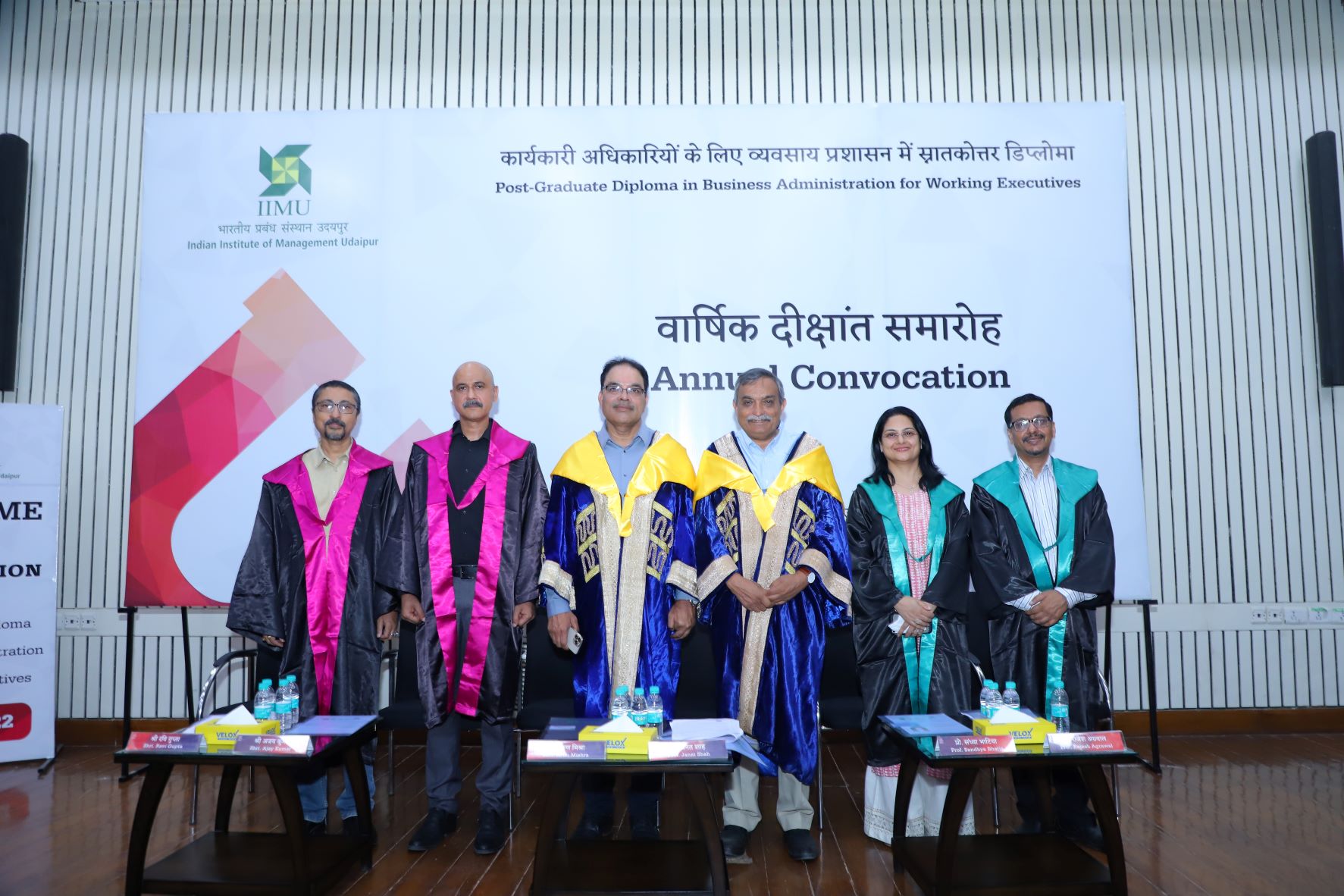 June 27th, 2022; Udaipur: Indian Institute of Management Udaipur hosted the first Annual Convocation for its Post Graduate Diploma in Business Administration for Working Executives – PGDBA-WE (Batch of 2020-22) on Friday, 24th June 2022 at its pristine 300 acre campus at Balicha, Udaipur. The Convocation Address was delivered by Mr. Arun Mishra, CEO, Hindustan Zinc Limited, who was the Chief Guest of the Convocation. The concluding address was delivered by Prof Janat Shah, Director, IIM Udaipur. The convocation was graced by Mr. Ajay Kumar Singhroha, CHRO, HZL, Mr. Ravi Gupta, Head, Corporate Learning and Skill Development, HZL, Prof. Rajesh Agarwal, Chairperson, One-Year MBA programs, faculty & staff of IIM Udaipur, besides parents and relatives of the graduating batches.
In the First Annual Convocation of PGDBA-WE, 37 students graduated with the gold medal for scholastic performance being awarded to Rajiv Chaudhary.
While congratulating all the students, Mr. Arun Mishra, CEO, Hindustan Zinc Limited said, "Management education teaches you art of management. However, the judgement comes while practicing it with an industrial perspective. Don't lose touch with your books. Over the years you will realize that as you grow within an industry more you are keen to theoretical applications. Read through research papers and try to find a solution to your business problems. Mass migration is happening across the globe. Business models are changing with Digital being the biggest disruptor. The additional qualifications will always be involved and will help you to stay relevant in the fast-changing world."
Explaining his journey and career of over three decades in cross domain functions at HZL and its subsidiaries, where he held several business leadership positions and handled a wide range of responsibilities, he further quoted the situations of board rooms where decisions are taken with an approach of "we'll see what will happen". He also discussed the uncertainties like, COVID pandemic, Ukraine-Russia War, etc. the world is facing currently, and said it's most unlikely to say where the world will be in the next six months. Education, however, will always be in loop to help you plan business strategies, decision-making abilities in uncertain situations.
The event address was delivered by Mr. Ajay Kumar Singhroha, CHRO, Hindustan Zinc Limited. He was grateful to the outstanding faculty members of IIMU for imparting the extraordinary learnings to the professionals and how it would help them shape their careers in a VUCA (Volatility, Uncertainty, Complexity, and Ambiguity) world. He advised the graduating batch to look for opportunities to amplify the general management skills and utilize the learnings to achieve a win-win situation in everything they do.
The welcome address was delivered by Mr. Ravi Gupta, Head, Corporate Learning and Skill Development, HZL. He congratulated the graduating batch and was confident that the work-integrated learning program of IIMU shall enhance the business skills of working professionals to perform at work. He said, "It was an emotional journey for all the participants as they started their MBA journey online. The COVID-19 has thrown some unprecedented challenges onto us in every sphere of our life in the past two years. The story of our executives was no different. Yet your commitment to your goal has made you achieve what you are today. It gives me immense pride to congratulate you all on your well-earned degree and wish you all the best in your future endeavours."
In his concluding address, Prof. Janat Shah, Director, IIM Udaipur, said, "It is a momentous occasion as we celebrate the convocation ceremony of our first batch of the Post Graduate Diploma in Business Administration for Working Executives with the Institute. It has been the most eventful and remarkable year for the IIMU community as we completed a decade of our establishment. My limited memory recalls that the graduating batch of 2022 experienced a turn of events that could as well be construed as extraordinary. You are the first batch of the course and started your MBA journey online due to the unprecedented global pandemic outbreak. You supported your teachers and batchmates and showed resilience under great stress. This graduating batch will remain a special batch for us as you helped us manage these difficult times without compromising the transformational experience quality. We are already proud of your forthcoming achievements and anticipate the unique paths you will tread that will benefit you, society and humankind."