From Raising Buildings to Raising Breast Cancer Awareness: Ambuja Cement conducts Health Camps in rural areas of Chandrapur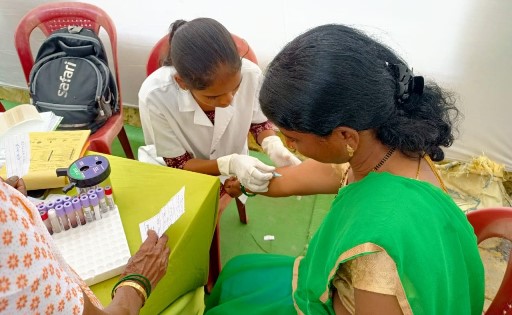 Ahmedabad, 26th October 2023: Ambuja Cements, the cement and building material company of the diversified Adani Group under its CSR arm, is intensifying efforts to raise awareness regarding Breast Cancer by offering enhanced support and screenings in rural communities of Chandrapur where knowledge about breast cancer is limited.
Ambuja Cements is planning to expand its outreach by hosting 30 health camps this quarter, aiming to cover 60-70 villages in Chandrapur through varied health intervention programs. In recognition of Breast Cancer Awareness Month, Ambuja Cements conducted over 17 health camps till October offering awareness sessions on breast cancer and clinical examinations. These camps were attended by about 900 women, with support provided by the Sakhis from which about 650 women underwent clinical examination with 9 high risk suspected patients identified.
To further leverage the awareness they are taking steps by hosting awareness sessions during Self-Help Group (SHG) meetings, engaging with anganwadis, and partnering with local schools to educate adolescents.
Earlier this year, Ambuja Cement Foundation in collaboration with the Association of Breast Surgery, UK (ABS), Association of Breast Surgeons in India (ABSI), and Tata Cancer Care Program launched a two-day medical education program on cancer awareness in Chandrapur, Maharashtra. The training involved regional oncologists, newly-appointed community health officers, community health volunteers (Sakhis), and government health officials.
Breast cancer is a prevalent disease not only in India but also globally and it often gets overlooked in rural communities. Recognising the urgent need for intervention, Ambuja Cements decided to incorporate cancer-related initiatives within its Non-Communicable Diseases (NCDs) framework.
To amplify their awareness initiatives, Ambuja Cements plans to organise rallies and marches, led by adolescents and women federations in coming months. These multifaceted strategies will contribute to a more comprehensive and impactful campaign for raising awareness about breast cancer in Chandrapur.
Mr. Ajay Kapur, CEO Cement Business, said, "We, at Ambuja Cements, are dedicated to empowering communities with knowledge and resources to combat breast cancer. Through strategic partnerships and targeted interventions, we believe that early detection and awareness can save lives. Our commitment to organising health camps and educational sessions is a testament to our belief in the power of collective action."
Ambuja Cements is committed to making a difference in the lives of women in rural communities, promoting early detection, and reducing the occurrence of breast cancer mortality.